We often see many design and decor hacks for tiny rooms or studios, but if we're dealing with a larger space — at least 300sqm, for example, how often do we stumble upon design and decor ideas for those? Probably not as much, because larger rooms are relatively easier to furnish. You get the liberty of putting in more furniture and decorative items in the space, but still, big spaces can be overwhelming. We need a good starting point before furnishing them.
After selecting a piece of land for sale around Melbourne West or any other location, your next agenda is to have your home designed, built, and furnished. While you still have adequate time to gather ideas for the look of your future family home, consult this guide and consider these tips:
Sitting Room
A large sitting room space allows you to have multiple functions for that area. For example, you can assign one section to be your formal sitting room, while the remaining spaces can be your TV room, reading nook, gaming area, and more. The key is to make these individual spaces work together seamlessly.
It is not advisable to place your furniture against the walls in a large sitting room. Instead, position them within three at least feet away from each other. This arrangement utilizes the space and creates a better balance.
If the ceiling is low, keep the furnishings low as well to create balance. On the contrary, for a sitting room with a high ceiling, you can use wall arts, draperies, and statement light fixtures such as a chandelier to emphasize the height.
Creating a focal point for your sitting room will be brilliant, too. It could be a fireplace, an ornate art piece, large mirrors, or an open shelving unit.
Kitchen
The possibilities are endless when it comes to spacious kitchens. If yours is adjoining the deck or pool area, you can adopt an open kitchen design where those areas will be fully exposed to one another. The airiness of this design further emphasizes the vastness of your kitchen.
Having a large kitchen also means you can install more than one island and counter. You can have an individual dishwashing counter, a cooking area, and a breakfast nook. If the layout allows it, you can have your kitchen designed in a U-shape. This can make the kitchen look and feel cozier because it surrounds you.
A large kitchen also allows you to install larger and more dramatic lighting fixtures. Multiple pendant lights are the perfect companions of large kitchen islands.
Bedrooms
Neutral tones will make a large master bedroom feel cozy and homey. And because this space is wide, bulky furniture will be suitable. Go for cushioned headboards, wide bedside tables, and plush lounges. Your light fixtures should also complement the architecture of the room; consider floor lamps, chandeliers, and bulky bedside lamps.
Like a large sitting room, creating other "mini rooms" within a spacious bedroom is also doable. It can accommodate a small sitting room or coffee tables and chairs.
General Tips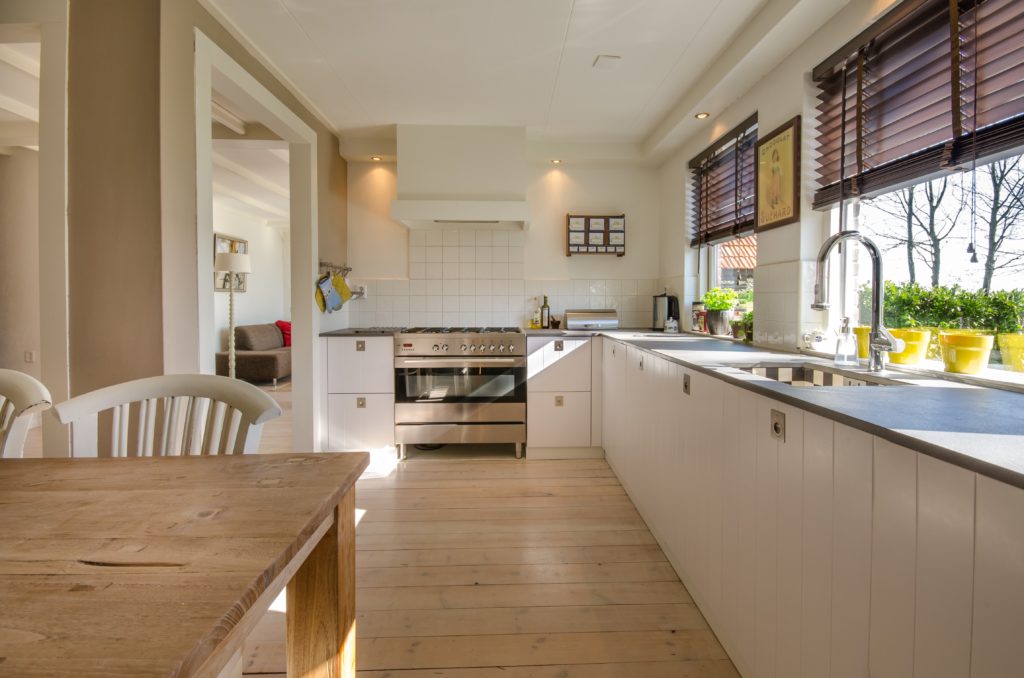 Regardless of what room in the house you're designing, keep in mind that a large space shouldn't be overdecorated or cluttered. Enhancing the space should be your aim. To do this, stick to large decors such as tall vases, potted plants, and big artworks.
For smaller decorations, it is recommended that you group them into three's. For example, three narrow vases, three small wall arts, etc. Grouping them will make them viewed as a whole rather than as individual single items.
And like in a small space, keeping the color scheme consistent and simple is also preferable. Dedicate the bolder colors to your accent pieces to impart cohesion to the defined areas of the house. When painting the walls in different colors or shades, apply the other color in the breaking point of the room to make the change seamless and cohesive.
With these design and decor tips, you can have a clear starting point as you embark on your project. Don't hesitate to explore other ideas — larger spaces are highly flexible, so your options can be stretched out even more.