Curb appeal is the first thing buyers see when they arrive for a showing. And first impressions are vital because they can make or break a sale. If your home doesn't have curb appeal, buyers may not even want to walk through the front door. But if your home looks great from the street, they'll likely want to see more. That's why it's important to ensure your home has curb appeal before putting it on the market. Here are tips for making your home look its best from the street:
Clean and Repair Your Driveway or Pathways
If you're looking to sell your home, it's important to ensure that the curb appeal is top-notch. This includes cleaning and fixing your driveway and pathways. They're commonly made from concrete, asphalt, or stone, and over time they can become cracked or stained. Depending on what your driveway or paths are made of, you might have to use a pressure washer or a sealant to get them looking new again. But maintaining these areas wouldn't be as easy if they were also damaged. For example, if your asphalt driveway has significant damage, such as large cracks or potholes, you may want to consider hiring a professional to do the repairs. So you should hire a reputable asphalt contractor to repair and seal your driveway. Doing so will remove any tripping hazards and make your home more inviting for potential buyers.
Paint Your Front Door
One of the quickest and easiest ways to give your home a facelift is to paint your front door. If you have a wood front door, you can also sand it down and restrain it for an even better look. Just make sure to choose a color that compliments the exterior of your home. For example, if your home has a lot of brick, you might want to choose a red or orange door. If your home has light-colored sidings, then a dark color like green or blue would be a nice contrast.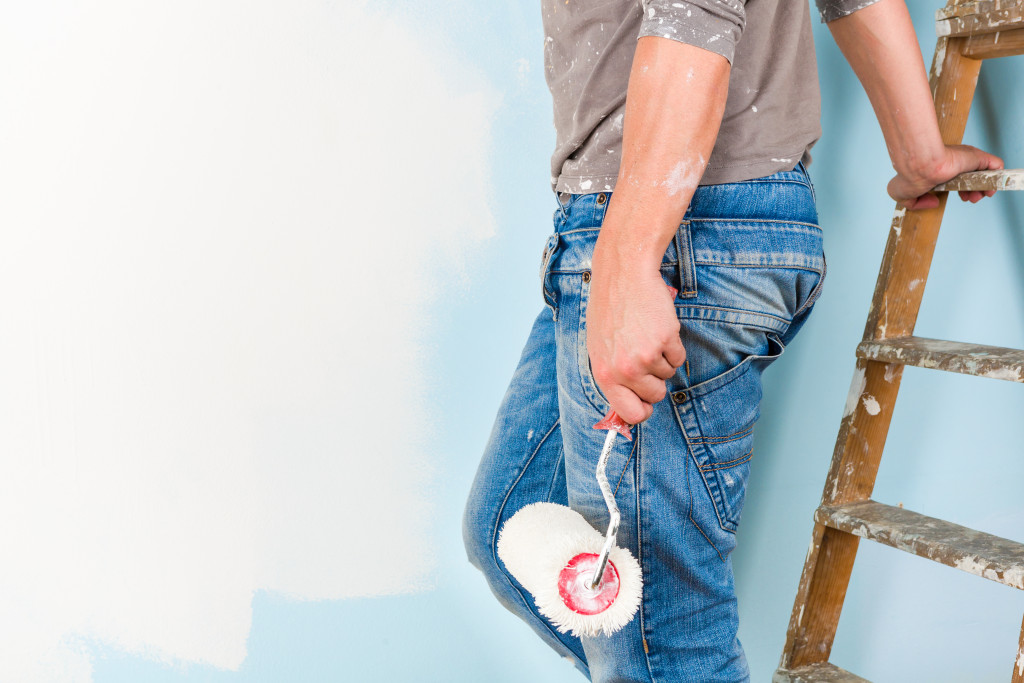 Replace Old Hardware
Another quick and easy way to improve your home's curb appeal is to replace any old hardware on the front door and in other visible areas, such as address numbers and light fixtures. These updates can make a difference in your home's visual appeal. As such, brass pieces for your front door can give your home an elegant look. Meanwhile, more modern materials like stainless steel for your address numbers can create a sleek and contemporary appearance. You can also try wrought iron or bronze for outdoor lighting, giving your home a more rustic feel. However, when making these replacements, ensure that none of them are loose and everything is installed correctly.
Trim Trees and Bushes
Another way to improve curb appeal is by trimming overgrown trees and bushes. This will help tidy up the appearance of your yard and make it look well-maintained from the street. If possible, you can try shaping them and creating forms to add more appeal. Also, make sure any trees close to the house are trimmed, so they're not touching the siding, as this can cause damage over time. Moreover, you should also pull any weeds growing in flower beds and along walkways leading up to your front door. This will give potential buyers the impression that you take pride in your home and it is well-cared for.
Clear Your Lawn
Before you put your home on the market, it's important to take some time to clear your lawn. Not only will this help to make your home more attractive to potential buyers, but it will also help to reduce the risk of injuries. You should pick up any toys or garden tools that could trip someone up. Likewise, ensure your lawn is free of debris, such as leaves and sticks. If you have a lot of trees, you should sweep once a week so sticks and leaves won't gather on your lawn. This will help to keep your home looking its best and prevent any accidents that could occur on the property. This will ensure that your home is safe and welcoming for all potential buyers. By maintaining your outdoor living spaces, you can make it easier for buyers to envision themselves relaxing in your yard and feel more at home.
Making a few changes to your home's curb appeal can significantly affect how potential buyers view it. It can also help to make your home more welcoming and increase the chance of a successful sale. With enough preparation, you can attract more buyers and sell your home faster — and for a higher price.