There are many benefits to building your own home. For one, you can save a lot of money. According to the National Association of Home Builders, the average cost of a new home in 2016 was $371,900, while a resale home was $228,700. Furthermore, building your own house allows you to customize it to your needs and wants.
Building your own home also gives you a sense of accomplishment and ownership you can't get from buying a property. When you make your own home, you know everything is precisely how you want it – from the foundation to the roof. This can be especially important if you plan on living in your home for many years. Finally, building your own home is a great way to learn about construction and homebuilding. This can be helpful if you ever need to repair or renovate your home in the future.
However, it would be best if you prepared for some challenges when building your own home. Here are a few steps you must accomplish before deciding to make your home.
Work on Construction Skills
If you're going to build your own home, you must have some construction skills. This doesn't mean you need to be a certified contractor, but you should know the basics of carpentry, wiring, plumbing, and insulation. These skills will come in handy when installing walls and fixtures and troubleshooting problems.
You can learn these skills by taking local community college or trade school classes. You can also find online tutorials or books on homebuilding. If you know someone with experience in construction, ask them to teach you what they know. The more construction skills you have, the easier it will be to build your own home.
Get Your Finances in Order
Building a house is a significant financial investment. You'll need to have enough money to cover the cost of materials, labor, permits, and other expenses.
You can start by creating a budget and saving as much money as possible. Once you have a down payment saved up, you can begin shopping for construction loans. Be sure to compare interest rates and terms before choosing a loan.
You should also set aside money for unexpected costs, such as repairs or delays in construction. By getting your finances in order before starting to build your own home, you can avoid financial problems down the road.
Find the Right Location
The location of your home is just as important as the house itself. When choosing a place, you must consider the climate, terrain, proximity to amenities, and other factors.
It would help if you also thought about the future when choosing a location for your home. For example, if you plan on having children, you'll want to be near good schools. If you're retired, you might want to be in a quiet neighborhood or near medical facilities.
Once you've found the perfect location for your home, you must ensure the lot is buildable. The first step is to check with your local zoning office to see if there are any restrictions on the property.
It would help to have the lot surveyed and the soil tested. These tests will help determine if the land is suitable for construction. If the ground is unstable enough, you may need a particular foundation or support system to build your home.
Invest in High-Quality Materials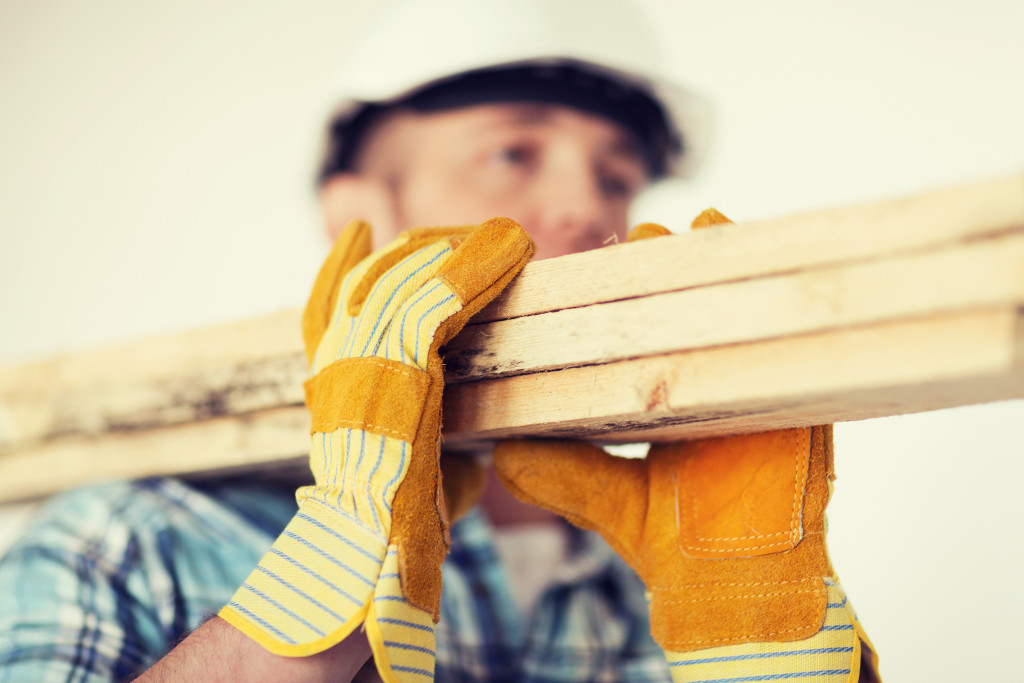 When you build your own home, you'll need to purchase materials for the construction. This can be a significant expense, so choosing wisely is essential.
It would help if you looked for materials that are durable and long-lasting. For example, opt for solid wood instead of particle board for your cabinets. Similarly, use high-quality paint and insulation to protect your home from the elements.
Moreover, a timber frame can work better than traditional stick-built homes in some cases, so don't be afraid to explore all your options. However, you will have to practice how to build your home with timber frames by seeking advice from professional contractors. The material can be expensive, so you'll want to know what you're doing before starting construction.
Hire a Qualified Designer
Drawing up the plans for your home is an essential step in the building process. You'll need to decide on your house's layout, finishes, and other details. Hiring a qualified designer is best if you're not experienced in home design.
Not only will they help you create a functional and attractive floor plan, but they can also assist with acquiring permits and finding contractors. When building your own home, a good designer is worth their weight in gold.
Get the Right Permits
Building a home without the proper permits is illegal in most jurisdictions. Furthermore, if you try to sell your home without the correct licenses, you could run into trouble down the line.
To avoid any problems, research the permitting process in your area before starting construction. Once you have all the necessary permits, keep them on hand during construction. That way, if an inspector comes by, you'll be able to show them everything is up to code.
Final Thoughts
Building your own home is a huge undertaking but also an enriching experience. By following these steps, you can ensure the process goes as smoothly as possible.
With a little hard work and planning, you'll be able to build the home of your dreams.